Trail of Dr. Wu Lien-Teh in Penang
Sunday, 10 March 2013
Documentary film on Dr Wu Lien-Teh shown at Penang Medical College Lecture Theatre, Jalan Sepoy Lines.
Followed by the Trail of Dr. Wu Lien-Teh in Penang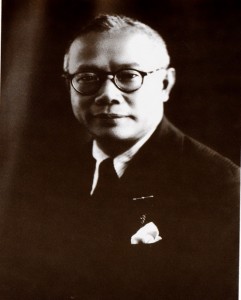 Born in Penang on 10th of March 1879, Dr. Wu Lien-Teh had his early education at Penang Free School and became the first medical student from Malaya to study at University of Cambridge on Queen's scholarship and was also the first ethnic Chinese nominated to receive a Nobel Prize in Medicine. He was vocal in the social issues of the time, founded the Anti-Opium Association in Penang and advocated cutting of the Manchu hair queue among the Malayan Chinese. In the winter of 1910, Dr. Wu was invited to Harbin in northeast China to investigate a plague pandemic which claimed more than 60,000 lives. His swift action to isolate infected victims and compulsory using of face-masks saved millions and he went on to introduce major medical reforms in China for the next two decades.
In 1937, Dr. Wu moved back to Malaya where he worked as a General Practitioner in Ipoh. Dr. Wu tirelessly collected donations to start the Perak Library in Ipoh and he was known to give free consultation and treatment to the poor. He died in Penang on 21st January 1960, aged 81. A road named after Dr. Wu can be found in Ipoh Garden South. In Penang, Taman Wu Lien Teh is located near the Penang Free School.
Dr. Wu Lien-Teh is regarded as the first person to modernise China's medical services and medical education. University departments and hospital buildings in Harbin and Beijing are named after him and a museum dedicated to Dr. Wu with his bronze bust constantly reminds the people his great contributions in promoting public health, preventive medicine and medical education.
This commemorative event was a prelude to the "International Symposium on Dr. Wu Lien-Teh and Public Health" scheduled to be held in Penang next year.