Exhibition: Strawalde's painting donated to PHT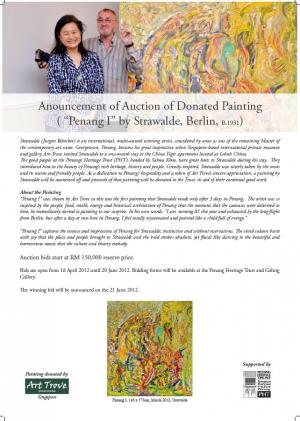 27 April 2012
Art Trove of Singapore has donated to Penang Heritage Trust a painting by the established German artist Strawalde. It will be up for auction and the reserve price is RM 150,000. In Singapore last year, a few paintings of his were sold at prices of more than 60,000 Euro.
Opening Reception
The opening reception of an exhibition by German Artist, Strawalde, jointly presented by Art Trove and Gehrig Art Gallery.
Date: 28 April 2012
Time: 6:00pm – 7:30pm
Venue:  Coffee Atelier, 47-55 Lorong Stewart.
The exhibition was held from 29 April – 20 June 2012 at Gehrig Art Gallery at Coffee Atelier.
The Painting "Penang I"
The painting "Penang I", the first painting that Strawalde made after only 3 days in Penang, has been generously donated by Art Trove to Penang Heritage Trust. It will be auctioned and all proceeds will go to the Penang Heritage Trust. "Penang I" will be exhibited in this exhibition, together with the other 22 paintings by Strawalde.  Gehrig Art Gallery has kindly sponsored the exhibition space.
Art Trove has been working together with PHT in the last 2 months, organising Strawalde's month-long stay in Georgetown, Penang. Strawalde, a prolific German artist whom we represent exclusively, spent a month being thoroughly inspired by the beauty of Penang & painted a total of 23 paintings. We are holding an exhibition in Penang from 29 April to 20 June for his Penang-inspired pieces.
Public was invited to Strawalde's exhibition 'Strawalde in Penang 2012' Opening Reception at the Gehrig Art Gallery, 28 April 2012 (Saturday) at 6pm.