Penang Story Lecture
Dr. Wu Lien-Teh and China's First Medical Research Institute:
The North Manchurian Plague Prevention Service, 1912-1931
Commemorating the international medical legacy of Penang-born Dr. Wu Lien-Teh
Time & Date: 3pm-5pm, Sunday, 1 June 2014
Venue: Penang Heritage Trust, 26 Lebuh Gereja (Church Street)
Speaker: David Luesink, Ph.D. (University of British Columbia)
Visiting Assistant Professor, Department of History, University of Pittsburgh
Co-organised by Penang Heritage Trust and Dr. Wu Lien-Teh Society
Supported by Penang Medical College and Ren i Tang
Abstract
The north Manchurian plague of 1910 to 1911 is one of modern China's most well-known medical events. Extensively celebrated in Chinese and English popular and scholarly literature, Wu Lien-teh and his small team of scientists effectively protected Qing (1910-1911) and Republican Chinese sovereignty at a time when China was extremely weak internationally. But protecting sovereignty with medical science does not constitute the whole story, nor should the story end in 1911. After successfully stopping plague in North China, Wu Lien-teh hosted an international conference in Harbin, which had been the epicenter of the plague, to demonstrate his success to leading bacteriologists from all imperialist powers with an interest in commerce, sovereignty, and the spread of disease in Northeast Asia, including Russia, Japan, Britain, France and the United States. Consolidating the growing international prestige of the plague research in Harbin, Wu Lien-teh established China's first medical research institute. At a time when medical research institutes of this type were relatively new, this institute conducted important, if controversial, research on plague and its vectors of infection. This presentation will refocus attention away from the headlines of 1910-1911 and onto the daily work of scientists and some of the controversies they solved and created over several decades.
About the speaker
David Luesink is visiting assistant Professor in East Asian History at the University of Pittsburgh. He was awarded a Luce Foundation Postdoctoral Fellowship at Indiana University in Indianapolis, and before that obtained his PhD from the University of British Columbia in Vancouver. As a History Department doctoral student David Luesink was awarded two prizes for 2009-2010, namely, the Chiang Ching-Kuo Foundation Dissertation Fellowship administered by the Canadian Association of Asian Studies; and the Academia Sinica (Taipei, Taiwan) Pre-Dissertation Fellowship, Institute for Modern History. He is the author of a chapter published in an edited volume: 'The History of Chinese Medicine: Empires, Transnationalism and Medicine in China, 1908-1937,' in Iris Borowy, Uneasy Encounters: The Politics of Medicine and Health in China 1900-1937 (Frankfurt, New York, Oxford: Peter Lang, 2009), 149-176.
Limited spaces available, to RSVP, please email to info@pht.org.my
Note: The Penang Heritage Trust office is accessible to cars after 1pm on Sunday.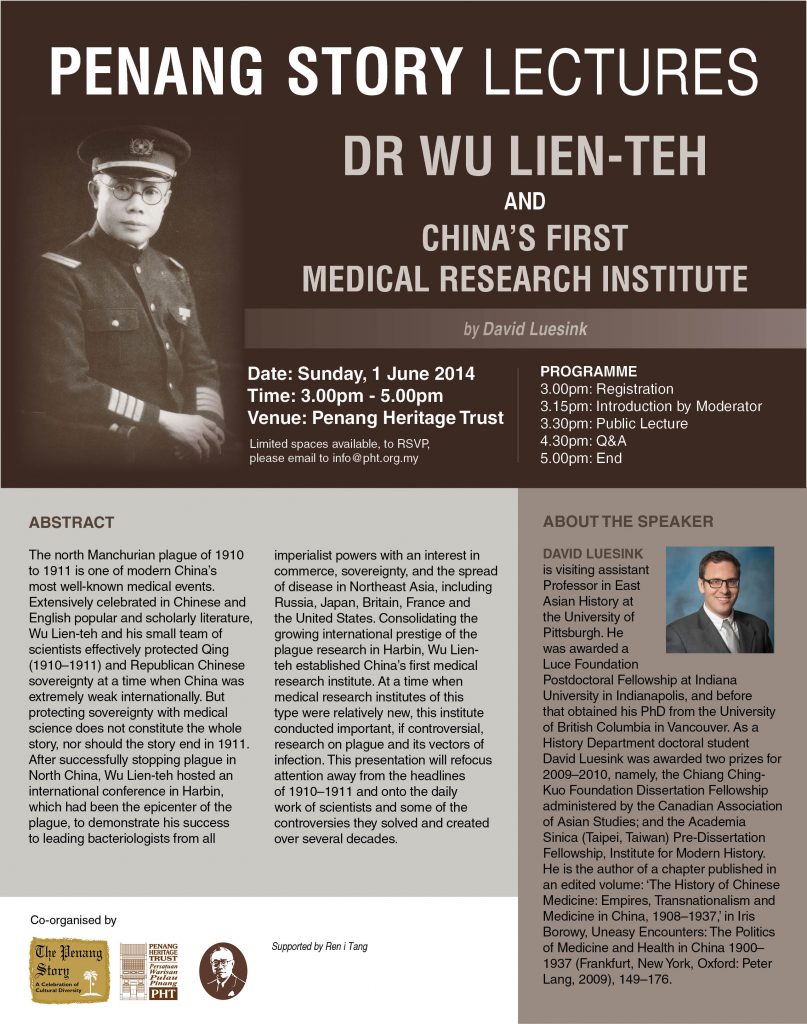 (share and comment on this announcement with your friends)